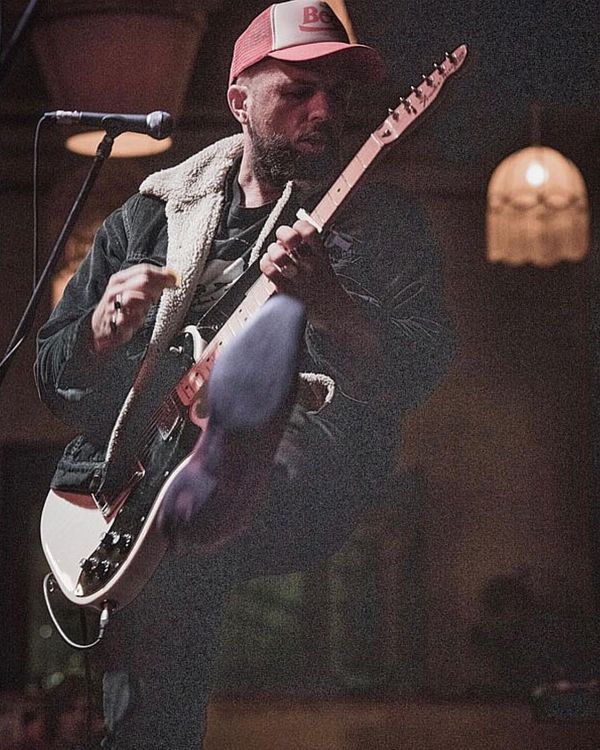 WHAT IS   DAN BRODIE'S CAPER?  
"If Dan Brodie were an actor, he wouldn't be the star of the show. He would be the guy the other actors on set wanted to hang out with, the guy the director would turn to when he needed a moment of inspiration to get the show on the road. This album.. shows why Brodie was twice nominated for ARIA Awards."
Martin Boulton - The Age
Since 1999, Brodie has captured audiences around the world, releasing a succession of albums (eight in total) which have been nominated for numerous awards.

Born in Melbourne, Australia, Brodie was raised in a musical family, his father, a professional guitarist and singer taught Brodie the basic chords of guitar and piano and along with his brother Chris, they began making music together, playing as fast and loud as they could to whoever would listen, not letting their lack of experience get in the way of having a good time, and honing their skills of playing live to an audience.
In 2001, Brodie, with his band the Broken Arrows, signed to EMI Australia and Last Call Records in France and has worked with esteemed producers and engineers Oz Fritz (Tom Waits), John Wooler (Iggy Pop, John Lee Hooker) and Rick Will (Robbie Fulks, Mark Lanegan) and played with a diverse range of artists including The Strokes, Steve Earle, El Vez, Chris Bailey (Saints), Arthur Lee (Love), The White Stripes and Gillian Welsh. His musical talents have taken him to the U.S., U.K., France, Spain and New Zealand playing such iconic venues as CBGB in New York, The Continental in Austin, The Exit/In in Nashville and The Olympia in Paris.
Brodie's talents are recognised in his native Australia with two ARIA (Australian Recording Industry Association) Awards for his second album, EMPTY ARMS, BROKEN HEARTS as well as an unfaltering reputation as an incredible live performer with acclaimed appearances at festivals such as the Big Day Out, Byron Bay Bluesfest and Splendour in the Grass.
The release of MY FRIEND THE MURDERER in 2011 led to a renewed interest in Europe and Brodie signed with Beast Records in France, completing a successful 25 date European tour the following year and bringing a whole host of new fans to his music. Spanning eleven tracks, the album showed off Brodie's newly formed backing band, the Grieving Widows, featuring Chris Brodie (Dallas Crane/Broken Arrows) on bass and Dave Nicholls (Ian Rilen/Spencer P Jones) on drums. The Album heralded a stripped back sound for Brodie, the sparseness allowing for the lyrics to come through strongly, in what would prove a dark meditation on the underbelly of Australian society, exploring themes of violence, domestic abuse, mental illness and suicide.
Brodie completed work on his fifth "solo" LP, Deep Deep Love in 2012 before a diagnosis of Hodgkins Lymphoma and subsequent treatment of chemotherapy and radiotherapy sidelined him for a year, delaying the record but releasing the single and video, Tear us down.

Following a sold out show at the Northcote Social Club in Melbourne in early 2014 (exactly a year on from the original scheduled release date), Brodie was invited along with a star studded cast including Paul Kelly, Adalita and Gareth Liddiard,  to take part in the "Living Legends Series" as part of the Leaps and Bounds Music Festival, honoring both Spencer P Jones and Charlie Owen on separate nights at the infamous Tote Hotel in Melbourne, Australia, and also recording the RUN YOURSELF RAGGED EP, releasing the single and filmclip, Booze to Blame. 

BIG HEARTED LOVIN MAN  - A Retrospective 1999-2014 was recorded in one night in January, 2015 at Salt Studios in Melbourne with acclaimed engineer, Glen Hewer. The album draws from Brodie's early solo work, the twangin alt-country of the Broken Arrows through to his current incarnation in the Grieving Widows. "We set up a stool and a microphone on the Saturday afternoon and I proceeded to rummage through my back catalogue and recorded 20 songs straight to tape, allowing for two takes of each song, and choosing the best version -  by the end of the night we had an album!" 

With a 3 month solo European tour completed in 2015, taking in Copenhagen, France, Switzerland and Spain along with the Australian launch of his stunning 16 track Retrospective album, Brodie spent the remainder of the year performing solo shows around Melbourne.
2016 brought a host of festival appearances, a standout being at the Gumball festival in NSW, followed by an East Coast tour with James Thomson & The Strange Pilgrims, a farewell show in his hometown of Melbourne and another tour of Europe in September/October 2016, this time with a French rock n roll combo in tow, beginning with an invite to the Rock On Chatiilon Music Festival in Rennes, France and finishing up in Barcelona, Spain.
In early 2017, Brodie returned to Melbourne to record a stunning collection of cover songs. Described as a spectacularly dark and brooding album of reinterpreted songs presented in Brodie's own formidable voice and style, LOST NOT FOUND features songs by Dylan, Iggy Pop, Prince, Motorhead and many more! Later in the year Brodie once more returned to Europe to perform across France, Spain, Scandinavia and Switzerland, completing the tour with a sold out show at Paris' legendary rock n roll club, Le Feline.
In 2018, LOST NOT FOUND was released on Vinyl with brand new Cover Art by acclaimed Sydney artist, Jimmy Meek. The Album was relentlessly toured around Australia with a run of shows that also featured guitarist Marty Burke.
In early 2019 Brodie released "Un Deux Trois Saucisson!", the first single from his eighth Album , FUNERARIA DO VALE. Recorded at Shrimp Shack Studios in Melbourne by producer and multi-instrumentalist, Michael Hubbard, FUNERARIA DO VALE showcases the musical influences which have shaped Brodie's world to date. Performing on the Album alongside Dan includes Chris Brodie on guitar and lap steel and Michael Hubbard on bass, electronics and guitar as well as Danielle Golding on keys and vocals and Special Guests Marty Burke and Molly Jean Morrison on the paean to hedonistic pursuits, "Getting fucked up (again)". Rhythms Magazine  were glowing in it's praise of the record claiming "..fascinating sonic twists and turns of phrase make this album an endlessly rewarding listen." 
2021 brings ofcourse a world wide pandemic but also a brand new single, "Old Betty" along with a stunning animated music video; a dedication to tired pooches the world over.. 
In collaboration with Melbourne animator and artist, Demi Oh, "Old Betty" is very much a video of our time, following the adventures of a tired but happy dog as she goes on yet another walk, encountering a number of increasingly action packed scenarios including hiking, bowling and motorbiking! 
Recorded in-between lockdowns at Shrimp Shack Studios in Melbourne  by producer and multi-instrumentalist, Michael Hubbard (Eagle and the Worm, Ben Mastywk), "Old Betty" recalls a simpler time of T-Rex inspired singalongs, handclaps and and banjo care of long time collaborator, brother Chris Brodie (Dallas Crane), showcasing Brodie's keen ear for a hook, with a bouncy and addictive bassline to the song off.
"I felt that lockdown got very dark and oppressive at times and wanted to release an antidote to that."  says Brodie. 
At his brother Chris' suggestion, the idea of an animated clip was brought up and a connection with Melbourne animator Demi Orfanidis (Demi Oh) was made. "We immediately clicked and via several back and forth emails, Demi created a simple but beautiful animated clip with stunning colors and backgrounds through which to showcase Old Betty's adventures. I love the result!"